All Links are Not Created Equal
#1 - Links Higher Up in HTML Code Cast More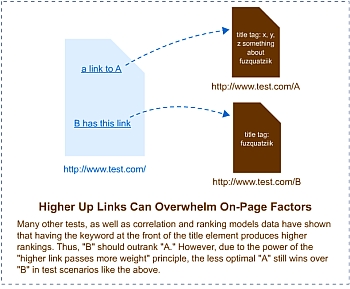 We find that links higher up in the HTML code of a page seem to pass more ranking ability/value than those lower down.
#2 - External Links are More Influential than Internal Links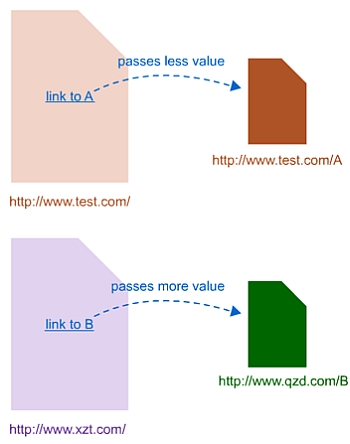 There's little surprise here, but if you recall, the original Google PageRank concept makes no mention of external vs. internal links counting differently. It's quite likely that other, more recently created metrics (post-1997) do reward external links over internal links.
#3 - Links from Unique Domains Matter More than Links from Previously Linking Sites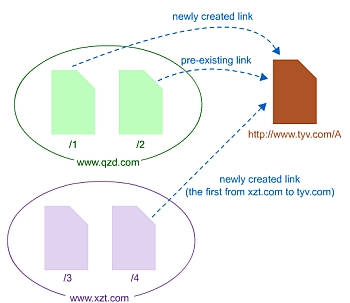 Speaking of correlation data, no single, simple metric is better correlated with rankings in Google's results than the number of unique domains containing an external link to a given page. This strongly suggests that a diversity component is at play in the ranking systems and that it's better to have 50 links from 50 different domains than to have 500 more links from a site that already links to you. Curiously again, the original PageRank algorithm makes no provision for this, which could be one reason sitewide links from domains with many high-PageRank pages worked so well in those early years after Google's launch.
#4 - Links from Sites Closer to a Trusted Seed Set Pass More Value

Links from Sites Closer to a Trusted Seed Set Pass More Value
#5 Links from "Inside" Unique Content Pass More Value than Those from Footers/Sidebar/Navigation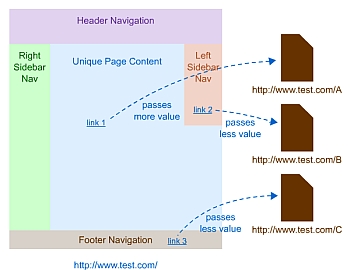 Links in the Footer and Sidebar are weaker.
#6 - Keywords in HTML Text Pass More Value than those in Alt Attributes of Linked Images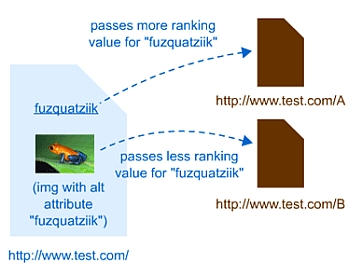 Anchor text carried through HTML is somehow more potent or valued than that from alt attributes in image links. That's not to say we should run out and ditch image links, badges or the alt attributes they carry. It's just good to be aware that Google seems to have this bias (perhaps it will be temporary).
#7 - Links from More Important, Popular, Trusted Sites Pass More Value (even from less important pages)
We've likely all experienced the sinking feeling of seeing a competitor with fewer and what appear to be links from less powerful pages outranking us. This may be somewhat explained by the value of a domain to pass along value via a link that may not be fully reflected in page-level metrics. It can also help search engines to combat spam and provide more trusted results in general. If links from sites that rarely link to junk pass significantly more than those whose link practices and impact on the web overall may be questionable, they can much better control quality.
#8 - Links Contained Within NoScript Tags Pass Lower (and Possibly No) Value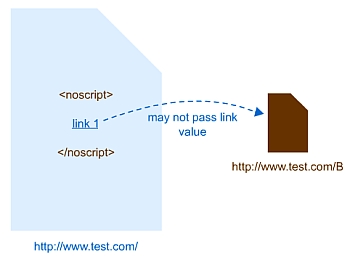 Over the years, this phenomenon has been reported and contradicted numerous times.
#9 - A Burst of New Links May Enable a Document to Overcome "Stronger" Competition Temporarily (or in Perpetuity)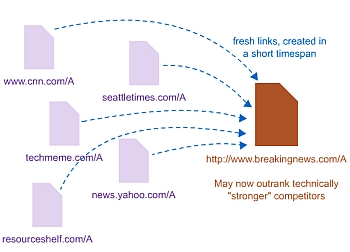 Apart from even Google's QDF (Query Deserves Freshness) algorithm, which may value more recently created and linked-to content in certain "trending" searches, it appears that the engine also uses temporal signals around linking to both evaluate spam/manipulation and reward pages that earn a large number of references in a short period of time. Google's patent on Information Retrieval Based on Historical Data first suggested the use of temporal data, but the model has likely seen revision and refinement since that time.
#10 - Pages that Link to WebSpam May Devalue the Other Links they Host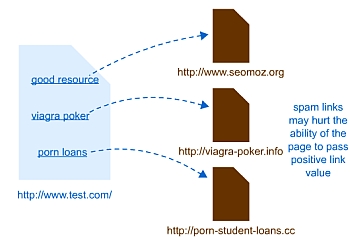 You can read about this here - http://seogadget.co.uk/google-page-penalty-for-comment-spam-rankings-and-traffic-drop/
Originally published here
Recently Launched Sites
Cam-Bag.Com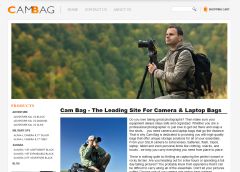 Do you love to take outdoor photographs? Be prepared with one of the Camera and Laptop Bags from Cam Bag. With storage solutions, organization, safety, and security, you will be ready for anything.
Contact Us:
Phone: 647-477-2992
Email: info @ CmsBuffet.Com
Helping You Achieve Web Visibility.