Moms Search = Opportunity; So Says Google and Babycenter.com
According to a study conducted by Google and the Web site, BabyCenter.com, moms are the engines that drive search. The study has been distilled down to 4 truths about how moms spend their time online:
Search Doubles When Women Become Moms:
When we have children, they open up a whole new world; their health and well-being become our top priority, and there's a lot that goes into keeping them healthy and happy. New moms typically have lots of questions. No book fully prepares you for parenthood, and when time is of the essence, moms are turning to the Internet for answers, not books.
75% of Moms Feel They have Mastered Search:
Moms have become so proficient at entering effective search criteria that they rarely go beyond the first results page. They find exactly what they are looking for almost immediately and are well on their way to solving their dilemma. Moms are the primary decision makers in the household, so if you've got information they want, you'd better make sure you're appearing in the spot where they're most likely to find you: the top of the page.
New Moms are Determined to Find the Best Deals:
Every penny counts when it comes to raising a family. Moms use the Internet to comparison shop for what they need, so they can get it at the best possible price. 55% of Internet-savvy moms will research the best deals online, and then buy the products in-store. If you're a retailer, you want to make sure your store offers the best prices, and your content is well-optimized to lead moms to your site.
2 out of 3 Moms rely on Search as a "Backup Brain":
Sleep deprivation and busy days can wreak havoc on the brain. Fortunately, moms have the Internet; it can do their thinking for them. Everything from how to treat a child's fever to what to cook for dinner can be found online. Moms might not have much time for themselves, but with the Internet, they can make it look easy.
If you're in a business that caters to families with children, you've just been given some valuable information that will help you raise your online profile. You can no longer afford to get lost in the shuffle. This is one game of hide-and-seek that mom will always win.
Talk to your SEO professional, and let him or her show you how easy it is to help moms find you online.
Recently Launched Sites
Cam-Bag.Com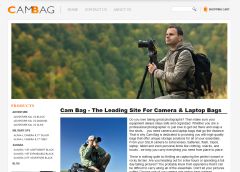 Do you love to take outdoor photographs? Be prepared with one of the Camera and Laptop Bags from Cam Bag. With storage solutions, organization, safety, and security, you will be ready for anything.
Contact Us:
Phone: 647-477-2992
Email: info @ CmsBuffet.Com
Helping You Achieve Web Visibility.