Thank you - Thanksgiving Blog
When someone gives you something, you say thank you.
When someone gives you, for free, something they worked on for many hours and even years, you should tell the world you are thankful.
Here is a partial list of software we use daily, and wish to thank anyone involved
Operating System:
Virtualization:
Databases:
Ftp:
Graphics:
Editors:
Misc:
From the whole CMS Buffet team, we just want to say, Thank You!
Recently Launched Sites
Cam-Bag.Com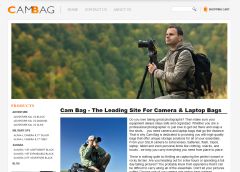 Do you love to take outdoor photographs? Be prepared with one of the Camera and Laptop Bags from Cam Bag. With storage solutions, organization, safety, and security, you will be ready for anything.
Contact Us:
Phone: 647-477-2992
Email: info @ CmsBuffet.Com
Helping You Achieve Web Visibility.