What Our PPC Services Can Do For Your Company or Website
Standing out online is no easy feat. There are millions of websites to choose from. This makes SEO practises especially important for your company or website. One effective avenue is PPC. This term stands for pay-per-click. PPC ads are essentially highlighted or sponsored links that target popular search engine queries. They are used as a way to draw more web traffic to a particular website. Are you looking to increase your online visibility? Then PPC may be something to consider. At CMS Buffet, our PPC services can benefit your company or website simply by the level of traffic you receive.
The truth is that PPC can be extremely effective - but only when it is implemented and managed properly. This is where experience comes into play. Our services include both Google and Bing pay-per-click management. These services allow your website to show up at the top of relevant queries on two of the most notable search engines in the world. That alone can bring in more readers. This in turn increases the possibility of achieving additional profits or sales. When it comes to PPC, choosing a company you trust is vital. You wouldn't leave the future of your business in the hands of just anyone.... and we wouldn't expect you to. So, it is time to learn what our PPC services can do for your company or website.
CMS Buffet is a Toronto based SEO company. We understand the importance of improving the visibility and accessibility of your website. This is why we never outsource the work. When you choose our team of experienced and professional search engine marketers, we are the ones performing each task. There are a number of ways that we can help improve your current SEO services. For instance, we know how to reduce the cost of your clicks for each PPC ad you place. We can also provide better keyword targeting. That means you will receive more exact matches rather than broad matches that do not net you viable sales. In addition, we improve ad text, landing pages, and your overall quality score. All of these improvements can save you money and improve the reputation of your online business.
Our PPC based services don't stop there. We also have experience managing negative keywords (helping you avoid pointless clicks that cost you money but don't help you make it back) and site links. Testing and re-testing ads and landing pages is also part of our extensive range of PPC and SEO related services. Since we charge just 15% of your Google or Bing PPC budget, you don't have to worry about overspending on SEO services. The last thing we want is for you to spend more than you need to. That is why each member of our CMS Buffet team treats your money like we would our own. We want you to achieve success, build a solid client base, and obtain the online visibility you have been craving. Your success is our success!
Is PPC something you are interested in? Then choose CMS Buffet to handle the task. With experience, knowledge, and a range of effective search engine based services.... the only way to go is up.
If you are interested in finding out more about PPC or our other SEO services, feel free to Contact Us at: 647-477-2992. At CMS Buffet, we understand how to improve the visibility of your online business.
Recently Launched Sites
Cam-Bag.Com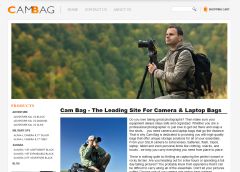 Do you love to take outdoor photographs? Be prepared with one of the Camera and Laptop Bags from Cam Bag. With storage solutions, organization, safety, and security, you will be ready for anything.
Contact Us:
Phone: 647-477-2992
Email: info @ CmsBuffet.Com
Helping You Achieve Web Visibility.