Website Stickiness
Driving quality traffic to your website is important, but you need to retain that audience by keeping them interested. The stickiness factor plays an essential role in encouraging a visitor to stay on your site. Stickiness is usually measured by the amount of time visitors spend on your website as well as the amount of pages they visit.
Website stickiness can be achieved by:
Having a user interface (UI) that provides the user with a positive user experience, a better sense of navigational control and is easy to use.
Having compelling, pertinent and engaging content. Informative, valuable and useful information will ultimately determine the success of your website.
Regularly updating the site with new content thus increasing returning visits.
Clearly describing to the visitor how you can help him/her.
Would you like to have your website be analyzed for its stickiness factor? We can help you with our Diagnostic Program.
More interesting facts about "stickiness" can user behavior can be read here.
Recently Launched Sites
Cam-Bag.Com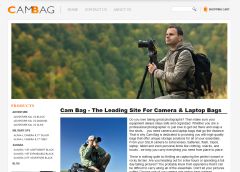 Do you love to take outdoor photographs? Be prepared with one of the Camera and Laptop Bags from Cam Bag. With storage solutions, organization, safety, and security, you will be ready for anything.
Contact Us:
Phone: 647-477-2992
Email: info @ CmsBuffet.Com
Helping You Achieve Web Visibility.