CMS Buffet Proudly Supports Kiva.org In the Fight Against Poverty

As Toronto SEO consultants, our job is to help our clients achieve success by helping them grow their businesses online. We understand how important it is to have a presence in our community as well as on the Internet, because the Internet has also become our community. Not only do we shop for goods and services online, we communicate with out friends and family members, and even re-connect with old friends we haven't seen or spoken to in years. The Internet has become an integral part of our lives. And now, we can even use it to help those less fortunate than ourselves.
Since 2010, CMS Buffet has been a proud lender of funds to those less fortunate through Kiva.org. Kiva.org is a non-profit microfinance organization that lends money to low-income individuals in places where they do not have ready access to traditional banks. With help from microfinancing, these people are capable of lifting themselves out of poverty by gaining access to the funds they need, even thought they do not have the necessary assets to collateralize the loans people typically receive from traditional lenders. Kiva.org, along with its groups of lenders, partner with organizations that distribute funds to borrowers, giving them the opportunities they need to build better lives for themselves. Borrowers in countries like Nicaragua, Bolivia, Rwanda, Tanzania and Mexico, to name a few, are benefiting from lenders like CMS Buffet.We lend as little as $25, which gets incorporated into larger loans, to borrowers who then use those loans to finance businesses, education costs and housing expenses, so they can have the resources they need to achieve success. As the borrowers' projects progress, we receive status updates, and, eventually, our loans are repaid to our Kiva account, ready to be lent out again to other individuals who are in need of assistance. That one $25 contribution goes to help not just one person, but many others, so they can have better lives.
CMS Buffet is part of the Kiva.org Team Canada lending team, made up of almost 4,000 Canadian individuals and businesses, that have collaborated on almost 40,000 loans worth close to $1.3 million. We believe that everyone, not just Canadians, should consider joining one of Kiva.org's lending teams, which are made up of a diverse group of individuals from all over the world. Right now, there are 22,000 lending teams that are helping people fund all types of projects that will help improve their lives. Each team has its reasons for being part of Kiva.org, but the common thread is to help those less fortunate overcome the odds and break down the barriers of poverty. At a time when many of us are struggling to make ends meet in our own lives, it's nice to know that even a small effort can have a big impact.
In the spirit of giving, as well as for the benefit of the global community we now live in, we ask that you go to Kiva.org and find out more about how you can join the thousands of people making a difference in the lives of people who are waiting for the opportunity to achieve their goals. We've helped so many local businesses achieve their Web goals, it's time for us to spread the word about how we can help others.
Recently Launched Sites
Cam-Bag.Com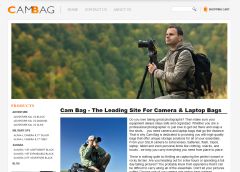 Do you love to take outdoor photographs? Be prepared with one of the Camera and Laptop Bags from Cam Bag. With storage solutions, organization, safety, and security, you will be ready for anything.
Contact Us:
Phone: 647-477-2992
Email: info @ CmsBuffet.Com
Helping You Achieve Web Visibility.