Social Media for Lovers: Lessons in Brand Voice
On my morning commute I flip between terrestrial radio stations, and today I caught an interview between Carson Daly and Christina Milian, celebs on the singing star-maker "The Voice".
The interview was part of Carson's morning show on an LA top-40s station, and while the station is part of CBS Radio, he freely uses the platform to promote his other hosting gig on NBC's musical reality competition. Christina, is the newly appointed social media correspondent for The Voice and she shared her experience using Twitter on behalf of the show.
It turns out some tried and true lessons of love hold fast in social media.
"A friend is someone who knows all about you and loves you just the same." - Elbert Hubbard
It's cheesy, yes, but time and again we see that when it comes to social media, we gotta be ourselves.
When The Voice premiered following the Super Bowl, the show's media team had already been all over Twitter, pumping up its 'net-engaged audience through its official account, @NBCTheVoice. It was interesting to learn from Christina this morning that initially they tried having her tweet from the show's account to do her duties as social media correspondent.

Here's a snapshot of what that led to: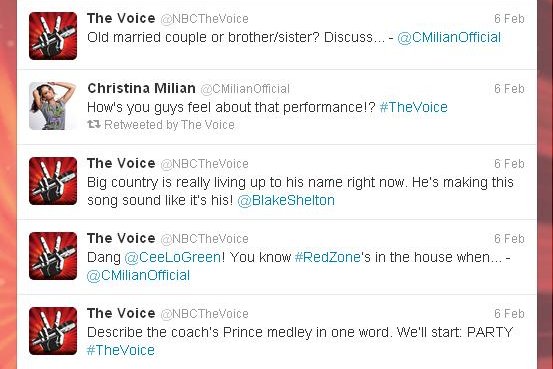 Tweets came from a faceless "we" one minute, then Christina, and then Christina's personal account was retweeted...
The show has a social media correspondent, so you know they've got their heart in the game, but they quickly realized this approach wasn't working. Christina explained that in tweeting through @NBCTheVoice, people weren't sure if it was her they were hearing from. So, now she tweets for the show from her personal account, happily fusing her own celebrity following with her role as The Voice brandvocate.
People don't identify with a show. They identify with people they can relate to. If your brand has an official account, that's cool. Just be sure that the people behind the brand shine through.
Carson and Christina also talked about the Twitter activity during last night's show. Christina had a request for fans watching the show and chirping up on Twitter: use the hashtag #thevoice.
From this request, a riff on an old adage comes to mind:
Treat others the way you want to be treated... even if it's not how you want to be treated.
By leaving out the official hashtag, people couldn't follow a unified discussion of the show, Christina said. Fans were using singers' names as hashtags - great, but please use #thevoice, she pleaded.
Unfortunately, this is a tricky spot to be in for the folks at The Voice. Tools are often repurposed for uses other than the ones they're developed for. You can't tell people how to use the tech tools at their disposal. Twitter is a prime example of this as the lexicon of @s and #s were officially integrated into the platform following users' invention and use.
We can take away from this the importance of adapting to our customers based on their needs and preferences. It's our job as brandvocates to meet people on their own terms. We're just making it harder on ourselves if we try to dictate the rules of engagement.
Originally published here
Recently Launched Sites
Cam-Bag.Com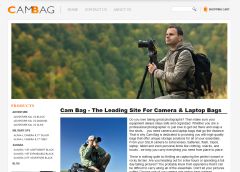 Do you love to take outdoor photographs? Be prepared with one of the Camera and Laptop Bags from Cam Bag. With storage solutions, organization, safety, and security, you will be ready for anything.
Contact Us:
Phone: 647-477-2992
Email: info @ CmsBuffet.Com
Helping You Achieve Web Visibility.