Why Having An SEO Effective CMS Is So Important.
A Content Management System needs to facilitate content management on your site but it should not hinder your search results.
The following article explains what SEO aspects need to be taken into account when considering a CMS for your website.
The SEO-friendly features discussed in this article are just some of the elements that are an organic part of our CMS Buffet platform.
Recently Launched Sites
Cam-Bag.Com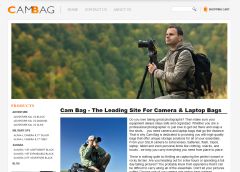 Do you love to take outdoor photographs? Be prepared with one of the Camera and Laptop Bags from Cam Bag. With storage solutions, organization, safety, and security, you will be ready for anything.
Contact Us:
Phone: 647-477-2992
Email: info @ CmsBuffet.Com
Helping You Achieve Web Visibility.