I Need A New Website, But Where Do I Begin?
What is the website about? Will it be a business website promoting services or selling products? A company website to generate leads? Perhaps a website about a person?
Which domain name should I choose for my site?
What is the website's functionality? What will it do?
Here are a few examples

Static Website - An informative website that is built once and remains the same throughout its life cycle.

Flash Website - This type of web site is built with Flash technology. This is a design intensive site.
CMS - Content Management System. This type of website gives you the capacity to make ongoing changes and frequently update your site.

Custom Made Website - A website that is tailored to suit your specific needs - developed and designed to match your specifications.


How will your website look? Will it have a special design?
How will content be added to the website? Once you have established the type of website and design that you'd like to have, you'll need to add content to it. The initial content can be uploaded once when the website is launched. With "Self-manageable" websites, Content Management Systems (CMS) and custom made websites you will have the option to add additional content at a later date.
How will you promote the website? The main reason to have a website is to get visitors come to it so they can be exposed to whatever it is you are trying to promote on your site. There are a few ways to promote your website:

SEO - Search Engine Optimization
PPC - Pay Per Click advertising

Affiliate Marketing



CMS Buffet can help answer all these questions for you.
We will work with you to identify what your website needs in order to achieve the web goals that you have set forth. We will create a website solution that is professional, easy to use and exceeds your objectives.
Contact Us to discuss your online needs and web goals.
Recently Launched Sites
Cam-Bag.Com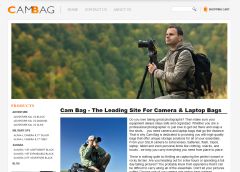 Do you love to take outdoor photographs? Be prepared with one of the Camera and Laptop Bags from Cam Bag. With storage solutions, organization, safety, and security, you will be ready for anything.
Contact Us:
Phone: 647-477-2992
Email: info @ CmsBuffet.Com
Helping You Achieve Web Visibility.