Have Realistic Expectations For SEO Results
You want it all.... and that's okay. When it comes to where your website falls on search engine results pages, though, it is important to be realistic. Every company wants to be at the very top of Google. However, that isn't always a possibility. In fact, simply getting on the first page can be incredibly difficult. Take a moment to ask yourself: have you ever heard an SEO company say they won't be able to get you into the top 10 on Google? That doesn't mean the company isn't any good. It means they are being honest! It is incredibly important to have realistic expectations for your SEO results.
Sure, you want to be on the first page of Google...every website does. It just isn't possible. When an SEO company tells you that they can't get you into that first page spot, that isn't a reason to skip SEO techniques altogether. The truth is that it's not always about reaching that top spot. The whole idea is to increase your visibility, find a larger audience, and turn that audience into increased sales. There is so much more to the Internet than being on the first page of a search engine! Especially when you consider the type of websites that are already in those coveted top spots.
Just one example? Try doing a Google search of "HP LaserJet pro 400." The top results listed include the HP website itself, review sites, troubleshooting help, and so on. There really isn't room for other sites to fit in there. You can see from that example that the top 10 results are pretty spot on. Based on that information, you can assume that the majority of the other search results on Google are the same. They largely include links to the actual company page and other notable authority sites. To get your own website to rank alongside the manufacturer is a tall order - even for the best SEO companies.
So, if you've heard an SEO company say that they can't get your website into Google's top 10, don't be discouraged. It happens - and even we can admit to it. When you heard this, don't use it as a reason to dismiss SEO or an SEO company. This doesn't mean the company isn't good at what they do. What it does mean, is that the top 10 on Google is so correct there is no room to fit in any other websites. That is why it is so important to set realistic goals for your own site. Avoid falling into the trap of thinking: Google's page one or nothing at all! Your website can still be successful and visible, even if it is found on page two or three.
You want your website to reach as many people as possible. That is great! In order to make it happen, you will need to focus on SEO strategies and on creating unique and original content. Instead of aiming for Google's top 10, have attainable goals that will set you up for success. Once you've done that, you can sit back and let the professionals turn those goals into a reality.
If you are interested in finding out more about search engine results or other SEO services, feel free to contact us at: 647-477-2992. At CMS Buffet, we understand how to improve the visibility of your online business.
Recently Launched Sites
Cam-Bag.Com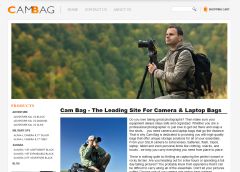 Do you love to take outdoor photographs? Be prepared with one of the Camera and Laptop Bags from Cam Bag. With storage solutions, organization, safety, and security, you will be ready for anything.
Contact Us:
Phone: 647-477-2992
Email: info @ CmsBuffet.Com
Helping You Achieve Web Visibility.