Having A Business Blog
The client has come to you for advice about business blogging. "Great idea!" you think, always happy to help when a client comes to you asking to devote more resources toward important SEO initiatives.
To read the rest of the article click Here.
Recently Launched Sites
Cam-Bag.Com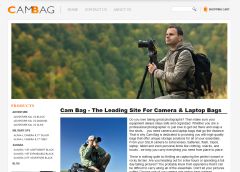 Do you love to take outdoor photographs? Be prepared with one of the Camera and Laptop Bags from Cam Bag. With storage solutions, organization, safety, and security, you will be ready for anything.
Contact Us:
Phone: 647-477-2992
Email: info @ CmsBuffet.Com
Helping You Achieve Web Visibility.