Quality links to your site
A popular question on our Webmaster Help Forum is in regard to best practices for organic link building. There seems to be some confusion, especially among less experienced webmasters, on how to approach the topic. Different perspectives have been shared, and we would also like to explain our viewpoint on earning quality links.
If your site is rather new and still unknown, a good way marketing technique is to get involved in the community around your topic. Interact and contribute on forums and blogs. Just keep in mind to contribute in a positive way, rather than spamming or soliciting for your site. Just building a reputation can drive people to your site. And they will keep on visiting it and linking to it. If you offer long-lasting, unique and compelling content -- something that lets your expertise shine -- people will want to recommend it to others. Great content can serve this purpose as much as providing useful tools.
A promising way to create value for your target group and earn great links is to think of issues or problems your users might encounter. Visitors are likely to appreciate your site and link to it if you publish a short tutorial or a video providing a solution, or a practical tool. Survey or original research results can serve the same purpose, if they turn out to be useful for the target audience. Both methods grow your credibility in the community and increase visibility. This can help you gain lasting, merit-based links and loyal followers who generate direct traffic and "spread the word." Offering a number of solutions for different problems could evolve into a blog which can continuously affect the site's reputation in a positive way.
Humor can be another way to gain both great links and get people to talk about your site. With Google Buzz and other social media services constantly growing, entertaining content is being shared now more than ever. We've seen all kinds of amusing content, from ASCII art embedded in a site's source code to funny downtime messages used as a viral marketing technique to increase the visibility of a site. However, we do not recommend counting only on short-lived link-bait tactics. Their appeal wears off quickly and as powerful as marketing stunts can be, you shouldn't rely on them as a long-term strategy or as your only marketing effort.
It's important to clarify that any legitimate link building strategy is a long-term effort. There are those who advocate for short-lived, often spammy methods, but these are not advisable if you care for your site's reputation. Buying PageRank-passing links or randomly exchanging links are the worst ways of attempting to gather links and they're likely to have no positive impact on your site's performance over time. If your site's visibility in the Google index is important to you it's best to avoid them.
Directory entries are often mentioned as another way to promote young sites in the Google index. There are great, topical directories that add value to the Internet. But there are not many of them in proportion to those of lower quality. If you decide to submit your site to a directory, make sure it's on topic, moderated, and well structured. Mass submissions, which are sometimes offered as a quick work-around SEO method, are mostly useless and not likely to serve your purposes.
It can be a good idea to take a look at similar sites in other markets and identify the elements of those sites that might work well for yours, too. However, it's important not to just copy success stories but to adapt them, so that they provide unique value for your visitors.
Social bookmarks on YouTube enable users to share content easily
Finally, consider making linking to your site easier for less tech savvy users. Similar to the way we do it on YouTube, offering bookmarking services for social sites like Twitter or Facebook can help spread the word about the great content on your site and draw users' attention.
As usual, we'd like to hear your opinion. You're welcome to comment here in the blog, or join our Webmaster Help Forum community.
Originally published here
Recently Launched Sites
Cam-Bag.Com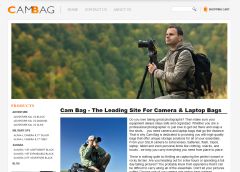 Do you love to take outdoor photographs? Be prepared with one of the Camera and Laptop Bags from Cam Bag. With storage solutions, organization, safety, and security, you will be ready for anything.
Contact Us:
Phone: 647-477-2992
Email: info @ CmsBuffet.Com
Helping You Achieve Web Visibility.