USA Local Business Web Sites
CMS Buffet is the SEO company of choice for local businesses in the USA. We have constructed, written copy for and optimized web sites for many small to mid-sized companies in the United States. Our expertise and dedication has helped many businesses launch an Internet presence, or update and improve their existing web sites. We specialize in improving your search engine rankings so more people will be able to locate your products or services in the Toronto area.
In today's competitive economy, it is essential to have a strong online presence to give you an edge over your competitors. Our SEO services are specifically tailored for the small to mid-size business owner, because we are a Local Business, too. We understand your needs better than the larger IT companies, and we can offer more personalized service. Our goal is to increase your visibility without all the tricks the big guys use. We're the Toronto SEO consultants that understand how Local Businesses work.
Take a look at some of the web sites we've worked on. Then, give us a call at 647.477.2992, and tell us what we can do for you.
Tranzporter.Com

Tranzporter is your source for Poster Tubes, presentation portfolios and Blueprint Cases, telescoping document tube, artist Portfolio Cases, Graphics Tubes, art presentation cases and blueprints holders.
Tranzporter uses the CMS Buffet platform to completely manage the web site and we help the client with Search Engine Optimization.

Art3Gallery.Com

Art 3 Gallery is a premier New England retail fine art gallery offering custom framing and corporate and residential art consulting services. Art 3 Gallery uses a tailor made web site solution.

BiSolutions.Us

With offices in Philadelphia and Toronto, BI Solutions is a business intelligence and data mining consulting firm offering data mining services, data mining training and predictive analytics for businesses in different sectors such as the insurance, financial, retail and telecommunications industries.

BI solutions uses the CMS Buffet platform to completely manage the web site.

CeoToCeo.Biz

Ceo to Ceo helps CEOs become better managers. On the web site you can find information regarding CEO Responsibilities. This client uses our Web Development Services.

EcserRubber.Com

Ecser® Holding Corp. a US corporation, is a pioneer in the rubber recycling sector with revolutionary technology that has wide ranging effects on the rubber industry, drawing on expertise in rubber technology and chemistry. Ecser Rubber uses a tailor made web site solution and our Web Development Services.
Recently Launched Sites
Cam-Bag.Com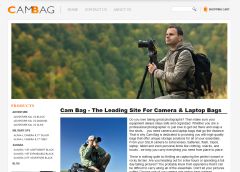 Do you love to take outdoor photographs? Be prepared with one of the Camera and Laptop Bags from Cam Bag. With storage solutions, organization, safety, and security, you will be ready for anything.
Contact Us:
Phone: 647-477-2992
Email: info @ CmsBuffet.Com
Helping You Achieve Web Visibility.