SEO Diagnostic Program
Search Engine Optimization costs can vary from several hundred dollars to thousands of dollars, but few businesses really understand what SEO entails. It is important to determine whether your website requires all that SEO encompasses or just certain parts of it. Your business type, industry, market and web visibility are determining factors in the process of understanding the SEO approach that is required for your website.
At CMS Buffet, we understand.
We offer a $195 package called The CMS SEO Diagnostic, where we ask you to fill out a short form about your business and your web objectives. We will then review and analyze your website from a number of SEO perspectives (including the search-bot's perspective). Finally, we will follow up with a half hour phone discussion about what's right on your website, what's not and what the highest priority fixes should be and why.
To recieve an SEO Diagnostic for your website, please fill out the form below:
Recently Launched Sites
Cam-Bag.Com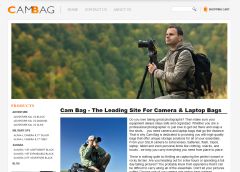 Do you love to take outdoor photographs? Be prepared with one of the Camera and Laptop Bags from Cam Bag. With storage solutions, organization, safety, and security, you will be ready for anything.
Contact Us:
Phone: 647-477-2992
Email: info @ CmsBuffet.Com
Helping You Achieve Web Visibility.