Is Planned Parenthood's Safe Sex Check-In a True Social Media Campaign?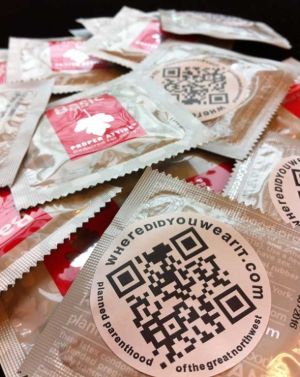 Social media has become the mode of communication most of us choose when we interact with each other. Whether it's Facebook, Twitter, Foursquare, or any number of smaller, lesser-known outlets, you'd be hard-pressed to find a person who isn't checking in somewhere on one of them.
Social media means different things to different people. For most of us, it gives us a means to tell the world, or at least our circle of online friends, acquaintances and other contacts, where we are and what we are doing. This can be a good thing if you're sitting in a Starbucks with your laptop having a latte. It can also be an example of too much information if you're going to check-in at your social media site of choice upon embarking on a sexual encounter. Yep, that's the latest social media ploy hatched by Planned Parenthood of the Great Northwest in the Seattle, Washington area. Their idea is to place QR codes on condoms to encourage their users to check-in at the approximate geographic location where the safe sex is to take place, thus giving other members of the user's social circles the motivation to engage in safe sex as well. The site, WhereDidYouWearIt.com, gives users the opportunity to reveal regions where their sexual trysts take place, without giving away the exact spot. The goal is to spread the word about how many people are using condoms to prevent sexually transmitted diseases. The Toronto SEO consultants are inclined to believe that Planned Parenthood has its heart in the right place, but the use of QR codes on the condoms they're giving out defeats the purpose of the technology, which is used to raise brand awareness and increase sales.
QR codes have exploded in popularity due to the proliferation of smart phones and bar code reader applications that are used to decipher them. QR codes are found just about everywhere and are fairly inexpensive to include on printed advertisements, and even on product packaging. Smart-phone using consumers snap a picture of the QR code and are guided to a Web site that gives them more information about the product, coupons, offers and yes, links to social media sites affiliated with the product. The informed consumer is one who will exhibit brand loyalty, therefore leading to increased sales for the company. Planned Parenthood has in essence hijacked the idea of QR code-engendered brand loyalty and turned it into a vehicle for the social media generation to provide too much information about themselves via social media. This is all well and good if they choose to do so, but what are the condom companies getting out of it? Planned Parenthood is slapping their own QR codes on products manufactured, marketed and sold by other entities, and those entities are not enjoying any return on an investment. Sure, they've got their own QR code campaigns in place, but what right does Planned Parenthood have to re-brand another company's product?
Currently, Planned Parenthood is "pleased" with the WhereDidYouWearIt campaign and is in the process of gathering data in order to decide if the project is worth expanding. We're more interested to hear whether or not condom companies will have anything to say about the brazen re-branding of their products and the additional social media attention they that they receive no compensation for. Social media ethics are a huge grey area, and many social media marketing campaigns are rendered ineffective because of the actions of organizations like Planned Parenthood. Right now, there isn't much that can be done, other than to pay close attention to how your current campaigns are performing.
To learn more about creating successful social media campaigns, ask a search engine marketing Toronto expert.
Recently Launched Sites
Cam-Bag.Com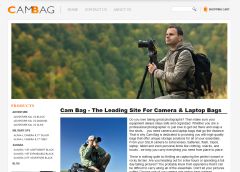 Do you love to take outdoor photographs? Be prepared with one of the Camera and Laptop Bags from Cam Bag. With storage solutions, organization, safety, and security, you will be ready for anything.
Contact Us:
Phone: 647-477-2992
Email: info @ CmsBuffet.Com
Helping You Achieve Web Visibility.