Rosh Hashanah Q & A With SEO Toronto Expert Dvir Weininger
Rosh Hashanah is the Jewish New Year. It is a time to reflect on the past and make plans for the future. Dvir Weininger, CMS Buffet's resident Toronto SEO expert sits down for a short Q & A about the state of Search Engine Optimization, and what he'd like to see in the New Year.
What are your thoughts about mobile browsing?
Anyone with a smart phone in their pocket or a tablet computer has a powerful Web browser they can carry with them anywhere. Web sites need to look good on smart phones and tablets; If your site is not visible to users of mobile browsers you will not only sacrifice traffic, you will also lose potential customers.
Quality content will allow your site to look good on desktop devices as well as mobile browsers. The CMS Buffet platform allows us to build sites that will look good on all types of browsers. After all, many of our clients must focus on desktop and mobile equally; If you provide an emergency service like Furnace Repair or Emergency Dentistry, you want to ensure that your site can be seen from anywhere.
How do you choose the right SEO company?
There are many SEO companies out there. The best way to choose the one that will meet your needs is to decide what it is you want to accomplish. I like to divide the SEO companies into two groups:
Link Builders: These outfits will not do anything to improve your return on investment (ROI). Anyone can build links; it doesn't take a lot of knowledge or skill.
Full Service SEO: These outfits will transform your site to improve your ROI by building quality links that bring visitors to your site. The goal of link building is to bring the traffic that will convert, not the kind that is just "browsing". Talented SEO-ers can increase revenue with very little link building, without compromising the integrity of other Web sites.
Dvir's Wishes For the Coming Year
I would like to see Google improve their Maps function, making it more user friendly for mobile Web browsers.Right now, a site's Google Maps function will not interact with Android GPS. Google needs to solve that dilemma.
Google and Blekko need to curb manipulation by link builders. There has to be a better way to put a stop to unrelated links appearing on Web sites. For example, "Hillary Clinton" has nothing to do with "Engagement Rings". Link builders and the sites that display these unrelated links need to be disciplined.
As always, we strive to help our clients achieve their Web goals through successful SEO implementation.
From all of us at CMS Buffet, L'Shanah Tovah. Have a sweet, healthy and prosperous New Year.
Recently Launched Sites
Cam-Bag.Com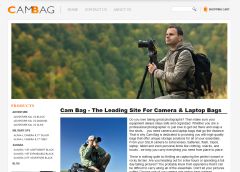 Do you love to take outdoor photographs? Be prepared with one of the Camera and Laptop Bags from Cam Bag. With storage solutions, organization, safety, and security, you will be ready for anything.
Contact Us:
Phone: 647-477-2992
Email: info @ CmsBuffet.Com
Helping You Achieve Web Visibility.