Why SEO and PPC Should Be Used Together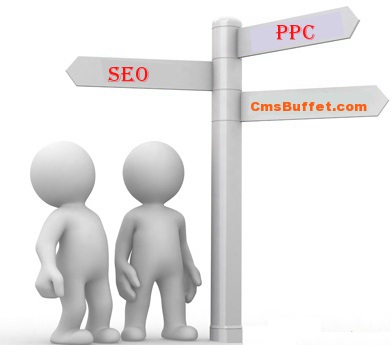 For a while, it seemed there was a battle going on about what the best Internet marketing technique was - it was SEO vs. PPC. Everyone had an opinion on which method was most effective and why. More recently, however, it seems that the SEO vs. PPC debate has changed. Rather than being viewed as separate techniques, it turns out that they may actually work better together. Yes, SEO and PPC are complimentary, not exclusive.
SEO (the short form for "Search Engine Optimization") is used by many different websites in order to improve the amount of traffic to the site or the page rank. This is a well used technique because it is considered to be a free and organic way of increasing the popularity of your website. Whenever you use a search engine - whether you are looking for a good plumber or a new pair of shoes - you are more likely to click on the highest links that the search engine offers. This is why websites use SEO - including popular keyword search terms that may help to boost the page rank on notable search engines. It can take a bit of time and patience for website traffic to increase. However, it can ultimately help to bring more traffic to your website and allow it to stand out among countless others.
On the other hand, PPC is quite a different marketing method than SEO. Rather than try to boost traffic to your website by using a more natural, slow build technique, PPC (which is known as "pay-per-click" and can also be referred to as CPC - "cost-per-click") uses paid online advertisements as a way to increase the popularity of a website. Ever notice those highlighted "Sponsored Ads" when you type something into a search engine? That is PPC at work. This type of Internet marketing involves having a sponsored advertisement for a particular website that targets your main demographic. The advertiser pays only when someone clicks on the ad...which explains the pay-per-click title! PPC can be an effective way to increase the amount of traffic to a website.
Since search engines are the most effective ways of finding a website, more and more people are realizing the importance of search engine rankings. They can help to boost the popularity of a website, which is essential for any business or company. This is why Internet marketing techniques continue to be a priority to many businesses. It is important for any website owner looking to increase the traffic or the page rank of their website to use these marketing techniques to improve the visibility of their website. SEO and PPC are two of the most effective marketing tools to help build an audience.
If SEO is a free way of increasing the popularity of a website, and PPC is a paid method, how can these two marketing techniques work together? By using both SEO and PPC together you are essentially doubling the effectiveness and the visibility of your website. Not only will you be able to build an audience gradually by using SEO methods, but you can also gain a more immediate response by using PPC marketing techniques. Using SEO and PPC together rather than separately really is the best of both worlds.
There are a number of benefits that come along with using both SEO and PPC for your website. The first is that it boosts the visibility of your site on search engines. Your PPC "Sponsored Ad" will be highlighted at the top of a search engine page. Additionally, your website will also be shown as an option in the search engine results. This allows your website to be seen - and it helps to increase the credibility of your page, ultimately drawing more traffic to your website.
Using both SEO and PPC also allows you to mix quality and quantity. Since SEO techniques helps the visibility of a website to grow naturally, you are able to better understand the market - what keywords work, which ones don't, and what topics your target audience is most interested in. PPC, on the other hand, allows your traffic to grow much faster and more immediately. Using both of these Internet marketing techniques allows a website to have both quick results and conduct quality research. Another benefit to using these techniques together? You can use the information you discover from each method to improve how you use the other. For example, if you are aware of what the most popular keyword terms are that helped to improve your page rank with SEO, you can be sure to focus on those keywords when it comes to using PPC. This allows you to be better aware of what works - and what doesn't.
If you found that SEO was working well for your website in the past, but it starts to lose its page rank, then it might be a good time to bring in PPC. This will allow you to change up your SEO keywords while gaining the more immediate results that can be achieved from PPC. Website owners should view PPC as a quick fix of sorts, while you discover which effective SEO keywords will start to boost your page visibility again.
So, do you need to use PPC if your website is already doing well by using only SEO techniques? There are some people that believe adding PPC to their marketing strategy simply won't be worth it if traditional SEO methods are already working. Well, know that old saying, 'If it ain't broke, don't fix it?' It is probably not the best idea to apply that to your Internet marketing. Maximize your results! It is important to use both of these methods to their full potential in order to increase traffic and visibility to your website.
Internet marketing can be tricky. When it comes to increasing the popularity, traffic and visibility of your website, should you choose SEO or PPC? Using both of these methods together is an essential way to gain the best results. Forget the SEO vs. PPC debate - SEO and PPC are complimentary, not exclusive. These strategies work well together because they combine slow building techniques with faster and more immediate results. By using these methods together, a website owner will be able to see much better results than if they were to use only one technique exclusively.
Recently Launched Sites
Cam-Bag.Com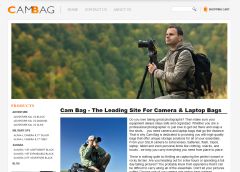 Do you love to take outdoor photographs? Be prepared with one of the Camera and Laptop Bags from Cam Bag. With storage solutions, organization, safety, and security, you will be ready for anything.
Contact Us:
Phone: 647-477-2992
Email: info @ CmsBuffet.Com
Helping You Achieve Web Visibility.