User Interface Design
A Web site's User Interface Design is a very important element from an SEO perspective. Your SEO will drive traffic to your site, and the user interface design will either keep visitors on the site or cause them to leave quickly.
User interface design in based on the following factors:
Functionality: What is the objective of the Web site?
User analysis: Who is the Web site targeting?
The user interface design needs to address the following questions?
What does the user hope to gain by visitng the Web site?
What is the Web site's normal work flow?
How savvy are the site's visitors and which similar sites have they already visited?
Which interface would most likely appeal to the visitor?
Information Architecture: How will your Web site flow?
Prototyping: Develop a wire frame that will outline the flow of information
Usability testing: Test the site before it launches on actual users
Graphic Interface Design: The collaborative effort between a graphic designer and the site's user interface designer will yield the ideal combination of visual and functional appeal. Striking the correct balance of form and function will produce the most ideal site that will be "user friendly" in terms of navigation, as well as provide the information the user seeks. Very often, improvements are made during the testing phase when users can give feedback to the designers so they can determine what works and what doesn't.
The site's message must be consistent throughout
Easy navigation between pages is paramount
Expect that visitors will make mistakes
Design must be intuitive to best communicate the information about products and/or services
Keep the design as simple as possible
The experts at CMS Buffet Toronto SEO company will be happy to answer any questions you have about user interface design.
Recently Launched Sites
Cam-Bag.Com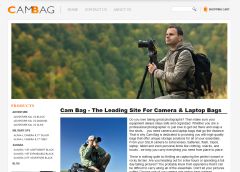 Do you love to take outdoor photographs? Be prepared with one of the Camera and Laptop Bags from Cam Bag. With storage solutions, organization, safety, and security, you will be ready for anything.
Contact Us:
Phone: 647-477-2992
Email: info @ CmsBuffet.Com
Helping You Achieve Web Visibility.