Content Management Systems
At the heart of every successful online business venture, you will find an effective content management system. CMS Buffet has designed its proprietary content management system to work well with any type of web site. Whether you need e-commerce or are strictly information driven, we can adapt our system to best suit your needs. Our web content management system will ensure that your site stays abreast of all the latest search engine changes and adapts accordingly. It is imperative in today's competitive market to stay one step ahead of search engine evolution; the best tactic is to have a superior content management system in place; one that is also SEO friendly.
A well constructed site content management system goes hand-in-hand with SEO. One cannot exist without the other. In order to effectively implement SEO, it must be compatible with your content management system. CMS Buffet likes to call it "SEO Friendly CMS". What makes our CMS services better than the rest is ease of use through direct implementation. You don't need to have a technical middleman to handle administrative tasks; you can do them yourself. It works with any web site design, so you are assured it will work for you.
We are so confident in our site content management system that we offer prospective clients the opportunity to "try before you buy". We make our content management system available to you through a test web site. All you have to do is ask us for a temporary user name and password, and you can try it out for yourself. You'll find it simple, straightforward and extremely user friendly. We've designed it this way in order for it to be able to grow along with your business. That way, you can add any of our exclusive features to your site at any time. Our "what-you-see-is-what-you-get" user interface helps you manage your evolving information, so you stay current within your industry as well as with search engine algorithms. Our "SEO Friendly" features are built right in, so you don't even have to worry about updating keywords or codes. It is all part of our exclusive package.
At CMS Buffet, we stand behind our content management system and promise we will be there with you every step of the way to ensure your success.
Recently Launched Sites
Cam-Bag.Com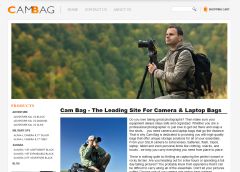 Do you love to take outdoor photographs? Be prepared with one of the Camera and Laptop Bags from Cam Bag. With storage solutions, organization, safety, and security, you will be ready for anything.
Contact Us:
Phone: 647-477-2992
Email: info @ CmsBuffet.Com
Helping You Achieve Web Visibility.