Facebook Receives Validation from Hollywood

If there were any doubts about the importance of Social Media in society, they were laid to rest on Sunday, with the Golden Globe Awards for Best Picture, Best Score, Best Screenplay, and Best Director, all awarded to "The Social Network". These are the latest indications that Social Media, like it or not, is here to stay.
As we speak, MySpace is laying off approximately half of its workforce, and rumours about the plug getting pulled on Facebook some time in March are causing apocalyptic waves of panic on the Internet. Fear not; Facebook is not going anywhere. If anything, the boost it will get from the publicity generated by its cinematic Doppelganger will increase its presence. With the Academy Awards nominations due to be announced in a few days, the buzz isn't even close to dying down.
What does all this mean for small businesses looking to increase their online profiles? You never know how far a little social interaction can get you. Building and maintaining a page on Facebook can increase your exposure, showcasing your brand to tens of millions of active Facebook users. Social Media goes where you go; the accessibility and affordability of smart phones allow users to text, Twitter and access Facebook from just about anywhere. Mobile web access is no longer a luxury, it is out there for the taking. The question no longer is, "how will people find me online? the question is "When?" Having a Web site is just part of the solution. Web sites must be supplemented by a Social Media platform in order to provide regular updates about products and services. The beauty of having a presence on a Social Media outlet is that it gives you the ability to have fun with your content. Inject some personality into your business, and it will surely get you noticed. The more active you are, the better your results will be.
Get on board with a Social Media game plan now. It's easier and more effective than you think.
Recently Launched Sites
Cam-Bag.Com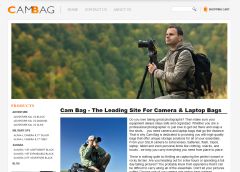 Do you love to take outdoor photographs? Be prepared with one of the Camera and Laptop Bags from Cam Bag. With storage solutions, organization, safety, and security, you will be ready for anything.
Contact Us:
Phone: 647-477-2992
Email: info @ CmsBuffet.Com
Helping You Achieve Web Visibility.