Web Content & SEO Writing Services
One of the most vital aspects of SEO is content. Once you have quality traffic visiting your web site, you want the content to be fresh and appealing. If the content is boring and uninformative, you'll lose your visitors even if you have exactly what they are looking for.
CMS Buffet includes professional SEO and web content writing as part of our SEO and Content Management Services. Integrating the relevant keywords into your web site's copy is crucial to proper implementation of SEO. If the copy on your site is poorly written, it is a reflection of your business; visitors will not want to do business with an entity that does not represent itself in a professional manner.
In addition to copy writing, today's SEO writing services must include blogs and articles. It is essential to keep your web copy up-to-date and informative by supplementing it with blog entries, periodic press releases and articles. CMS Buffet includes these extras in its web content writing services. Based on your site's performance, there will be times when it will need a boost with a blog entry or a press release. These tactics will bring even more traffic to your site by raising your profile within your industry. The majority of information is obtained on the Internet, and the vast majority of commerce is initiated through web sites. Writing for SEO is a technique that requires skill and dedication, as do the technical elements that go into building a successful web site. At CMS Buffet, you get it all.
Feel free to browse our recently launched web sites. All their copy has been written and optimized by CMS Buffet.
Recently Launched Sites
Cam-Bag.Com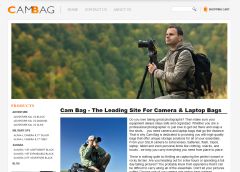 Do you love to take outdoor photographs? Be prepared with one of the Camera and Laptop Bags from Cam Bag. With storage solutions, organization, safety, and security, you will be ready for anything.
Contact Us:
Phone: 647-477-2992
Email: info @ CmsBuffet.Com
Helping You Achieve Web Visibility.