14 Differences Between Mobile Search & Desktop Search Results
It can be easy to forget that most businesses still aren't thinking about mobile as something that impacts them today, and aren't really planning for a future in which most of our online activity will take place on mobile devices.
For the few businesses that are taking advantage of mobile today, and not waiting until doing so is mission critical, it might not seem like much of a problem, especially when the competition has yet to catch up.
Yet, when talking to providers of the tools we all use and asking them about features to track the impact of mobile on search and social revenue, We often hear that the market isn't yet asking for these innovations.
Without the ability to measure how mobile impacts SEO and social, such as the mobile volumes available now in the Google Keyword Tool and in Webmaster Tools, it's difficult for anyone to take advantage of mobile traffic, whether you want to or not.
If the market isn't yet asking for these innovations, We think part of the reason is that marketers don't yet understand why they should care.
Why Mobile SEO Is Different From Desktop SEO
To combat this, we are going to quantify how mobile SEO differs from desktop SEO, in order to demonstrate that marketers who continue to do nothing and expect mobile search traffic to pour in on its own aren't getting as much of it as they could be.
Mobile investment is something that needs to start today.
One of the major reasons why SEOs need to think about mobile today is that mobile search results on feature phone or smartphones differ from the search results that appear on a desktop browser. In a previous study late last year, researching webmaster tools data that rankings differ between smartphone and desktop browsers by 86%.
In order to convince those of you who still think optimizing for desktop search is enough to rank in mobile today and in the future, here are 14 ways that mobile (smartphone) search results differ from desktop results today:
1. Local results are more likely in mobile, so Google Places listings sometimes appear higher in mobile results than they do in desktop, and domains with local intent are more likely to appear. If you have a local business that you're interested in optimizing, this makes Google Places optimization essential, and may even call for domains with geo-modified keywords, depending on your situation. This tactic may conflict with a desktop SEO strategy that would consolidate link equity into one canonical domain; but it may be most effective for mobile visibility. The key to making the right decision for your business is fully understanding the situation and possible consequences of your actions. Not ignoring mobile search.
2. Autocomplete results act as results before the results in mobile app search. Optimizing for mobile suggest with a search call to action in broadcast advertising may help users find the high-priority content surrounding your brand that they might not have found otherwise.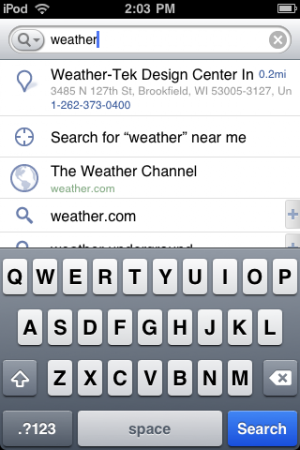 3. Certain queries have interactive results in mobile, pushing web rankings down (see [weather] in Android and iPhone search, for example). Marketers who target these types of queries with interactive results may see a lower CTR, which might affect their selection of keywords in the first place. This would affect both their mobile and desktop campaigns.
4. Android users are always logged in, so personalized results are shown more often than in desktop search. This might call for on-site messaging related to actions that change personalized search results, such as "bookmark this site for easier access in Google."
5. Positions of vertical results likely different in smartphone results. For example, video results are broken up on second line instead of placed on same line. Image results often appear higher in mobile search results. Image search optimization and video SEO often have a low priority in enterprise SEO, but if mobile is important to the business goals, this may change the overall priority.
6. No Google Plus One in mobile results (yet). If you've received a directive to add a 1 button to all digital content, it won't help in mobile just yet.
7. Options gives the option of mobile formatting in smartphone results. This activates the Google transcoder and may make the site unusable for filling out forms or enabling conversions. Having a visible mobile site in search results to avoid the transcoder scenario may keep users who prefer mobile content from being frustrated, which may save a sale.
8. Smartphone results have different filters at the top (Web, Images, Places, more versus Web, Images, Videos, Maps, News, Shopping, Gmail, more). Fewer places to filter may mean a higher CTR in mobile search.
9. Carrier content such as ringtones highlighted for queries that match any keyword in carrier content, regardless of whether query is ringtone-related or mobile in nature. Ringtones could theoretically be optimized for broader terms as long as this carrier content in SERPs persists.
10. Blended mobile ranking algorithm for mobile queries demonstrated at Searchology 2009. While it's unclear how many queries this applies to in the U.S. at present, the post-Panda user-focused search results make it likely to grow in the coming years.
11. Android Market or iTunes results for queries that include "download" or "app". If your target keywords for desktop SEO include these keywords, they may have different results with lower click through rates in mobile search.
12. Brand and store filters don't currently occur in mobile smartphone search. If you get a lot of traffic from branded variants of those brand and store filters in desktop, it's unlikely to help you mobile search. This may require different techniques for acquiring that lift in mobile.
13. No option to block content in mobile smartphone results at present. This may change as Google gathers more information about the efficacy of its results in a post-Panda world; but for now the block content button happens only in desktop.
14. If CTR and bounce rate data is used to determine ranking in smartphone results, CTR and bounce rate more likely to vary in mobile smartphone listings, as listings in search suggest, abbreviated title line breaks and descriptions, unusable desktop sites in mobile results, increased engagement of mobile users and the variations in ranking and UI mentioned above are all likely to change click through rates and bounce rates for smartphone searches.
In reality, there probably are more than 14 differences between mobile and desktop search in Google. These are just the ones I was able to find at a first pass through.
Chances are, as Google continues the trend of changing mobile search results to fit the user's mobile context in order to continue their search dominance in mobile and fend off would-be competitors, there will be many more differences between desktop and mobile to come. Have you started to think about, or act on these differences in your SEO campaigns? If not, what are you waiting for?
Originally published here.
Recently Launched Sites
Cam-Bag.Com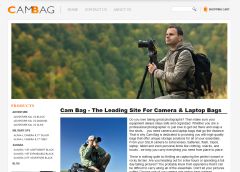 Do you love to take outdoor photographs? Be prepared with one of the Camera and Laptop Bags from Cam Bag. With storage solutions, organization, safety, and security, you will be ready for anything.
Contact Us:
Phone: 647-477-2992
Email: info @ CmsBuffet.Com
Helping You Achieve Web Visibility.