Purchased Link Penalties: There's No Time to Waste
Fellow search marketers: Please understand that if Google does not win the fight on paid links, eventually the top rankings will belong to sites that spend the most money on links. This hurts almost every SEO and certainly hurts every one of our clients.
An explicitly clear warning for all online business owners:
While Google has been working on detecting deceptive SEO links and some sites have already seen penalties, these prior penalties are really just the start of an increasing penalty period.
We have a sincere and urgent concern regarding the method of link development involving purchased links and the impact it will certainty have on search rankings. I want to be very clear that we think Google perceives deceptive linking methodologies and the ramifications of these actions as deceptive acts worthy of a penalty.
If you really think you are smarter than Google and can hide your paid links forever, then you deserve the inevitable.
What Not to Do in Link Development
Take this example: A company buys links, sees where they appear, drops the links, waits for a competitor to buy them, then they report the competitor to Google for buying links, documenting the linking URL's as proof, and thus also reports the site selling them.
Are you smart for buying those links? Are you outsmarting your competition who is more than happy to report you and have no issues with setting you up? Do you think Google hasn't seen users doing this already?
Per Google, the link-development methodology referred to as "purchased links" - however innocent this method may appear to be - is a direct violation of the Google Quality Guidelines. What this means is that sites should not engage in the practice of developing links with the intent of influencing link popularity or PageRank distribution, or any other SEO benefit in mind.
If active engagement in this practice is detected and flagged, the best you should expect is a zero benefit from those links and at worst, there could be unequivocal and compelling punitive repercussions in the Google search results, depending on the circumstances discovered.
We have seen smaller business units in large Fortune 50 clients that were buying insignificant traffic links for SEO purposes, bring down the company major keywords simply because all business units shared the corporate domain. The problem is that in large companies nobody knows who might be, or if anyone is, buying links, and stopping it is hard if naïve client staff think it is okay but keep it secret. If the president of a large company were to find all of their Google listings gone, how long do you think you would keep your job if you bought or even knew about those links? Put another way, if you buy paid links, you should reasonably expect to lose your job.
Likewise, we have seen agencies perform a website analysis, or use enterprise tools that identify a need for inbound links, and, without the full disclosure that this could get the website banned, that agency offers to solve the link problem for a reasonable monthly fee. Their solution is often purchased links, and the client is unaware that they are at serious risk. Or worse, the agency states that this is okay with Google and this is how others are doing it.
If an agency advises you to buy paid links for SEO purposes, you should find another agency. For an agency or service to do this to a client is an unethical act. Our advice is buyer beware.
To be clear: There is a paid links penalty, it is severe, and you cannot hide from it.
Please take a few minutes to review these resources about paid linking.
Here is some commentary regarding Google's explicit warning against paid link programs.
The Safe Way to Use Purchased Links
Google does not want to tell companies who they can and cannot do ad business with; however, they do not want anyone to be able to influence organic search results by buying or renting links.
If the intention of any link-development program using a purchased links strategy is to generate traffic like an ad buy; as long as you include the rel="nofollow" attribute in the link code then there is no problem in the eyes of Google.
What we are saying is that it is critical that you do not in any way engage in a purchased link methodology with the intent to influence SEO results.
If you are treating this like an ad buy, please request the use of the rel="nofollow" attribute in the link code to help demonstrate to search engine spiders that your intent is strictly foot traffic and ad space. You would be wise to make sure that your ad contracts and insertion orders clearly state that the sites providing the links will comply with the quality guidelines as specified by Google and not pass PageRank.
Act Now or Suffer the Consequences
We realize that many people have seen an SEO benefit from link purchases and, although we have all heard of penalties, most people simply do not think it matters until it happens to them; by then it is too late and the damage is done.
Based upon what we know beyond any doubt, penalties are accelerating and broadening to include many more Web properties. It was nice of Google to wait until after the holidays, but that time is over.
What can you do?
1.If you are buying links, stop immediately. You must protect your valuable Web assets by not inviting them to be penalized.
2.Check your ads now for links that might be construed as trying to influence SEO before you are left scratching your head and wondering where your rankings have gone. If you have purchased ads with direct links, either rel="nofollow" them or have them removed.
Originally published Here
Recently Launched Sites
Cam-Bag.Com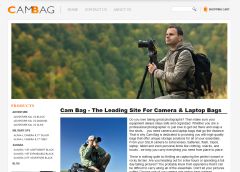 Do you love to take outdoor photographs? Be prepared with one of the Camera and Laptop Bags from Cam Bag. With storage solutions, organization, safety, and security, you will be ready for anything.
Contact Us:
Phone: 647-477-2992
Email: info @ CmsBuffet.Com
Helping You Achieve Web Visibility.