Google on Duplicate Content Filtering and News Attribution Metatags

Google was granted a patent, that describes how Google might identify duplicate or near duplicate web pages and decide which version to show in search results, and which ones to filter out. It's a process possibly close to what Google has been using for a while.
But...
Identifying the original source of content can be a pretty hard problem to solve on the Web.
What if Google had a smaller search vertical, where they carefully screened and identified all of the web publishers involved, and could convince them to help identify which content is original, and which is copied or duplicated?
To do that, Google introduced a new set of Source Attribution Metatags for Google News articles, which allow the publishers of breaking stories to tag those stories with an "original source" meta tag, and publishers who are syndicating those stories to use a "syndication-source" metatag. Google controls which sources show up in Google News results, and they note in their page about the source attribution metatags that:
"If we find sites abusing these tags, we may, at our discretion, either ignore the site's source tags or remove the site from Google News entirely."
The metatags would look something like this example from Google's Page on the attribution tags:
<meta name="syndication-source" content="http://www.example.com/wire_story_1.html">
<meta name="original-source" content="http://www.example.com/scoop_article_2.html">
Originally published here.
Recently Launched Sites
Cam-Bag.Com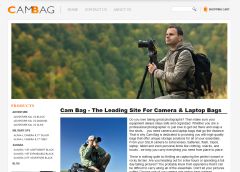 Do you love to take outdoor photographs? Be prepared with one of the Camera and Laptop Bags from Cam Bag. With storage solutions, organization, safety, and security, you will be ready for anything.
Contact Us:
Phone: 647-477-2992
Email: info @ CmsBuffet.Com
Helping You Achieve Web Visibility.