What Is F.O.C.U.S. Writing?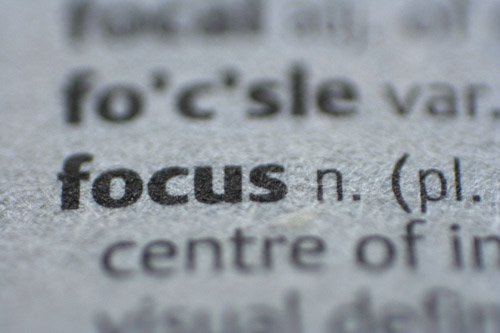 Effectively writing for a website requires skill and precision. There is so much more to content writing than simply writing about a topic and sticking an article up on a web page. In order to write content that speaks to readers and benefits business owners, there are certain things that need to be considered. The F.O.C.U.S. writing method can help improve the quality of a website and to boost the overall experience for a reader. It is important to understand what F.O.C.U.S. writing is in order to apply it to your content writing.
The first letter in F.O.C.U.S. has to do with knowing your audience. That is why F stands for: Focus On Your Readers. When it comes to writing for an audience, it is essential that you understand who that audience is. Whatever service or product you offer, the content on your web page needs to focus on the person who is most likely to need that service or product. Before you write anything for your website, you need to stop and think about who your audience is. What are you offering and who are you offering it to? What type of person is most likely to read the article or web page? Once you have determined who your audience is, the content that you put up on your website will have more focus and a sharper direction. For example, if you were a dog grooming company, you wouldn't write about dogs in general or whether or not you should get a new pet. Instead, your content would focus in on your expected audience - dog owners. Don't waste your time writing for people who simply aren't going to read it! Know your audience and make sure that the focus is always on them.
The O in F.O.C.U.S. stands for: Often. You should always keep your website updated by writing often. It is important to add new content to your web page because it improves the overall experience for a reader. It also adds to the quality of your website. When someone is looking for specific information or the answer to a question, a regularly updated website is more likely to have what they are looking for. The more information you offer, the more legitimate and respected your website will appear to be. Additionally, updating your website often increases the visibility of your page. Search engines love new content! More pages on your website means that search engines will index your web page more. This can help to increase your page rank on some of the most popular search engines. The more relevant your website appears to search engines, the easier it will be for readers to find your web page. It is true that new content benefits the readers of your website. However, new content also increases the likelihood of readers finding your website in the first place. Writing often is an important part of gaining readership and increasing the visibility of your web page and of your business.
Next, the C in F.O.C.U.S. represents a Call for Action. It is all well and good to have information on your website, but in order for that to benefit your company or business, your readers need to take the next step. It is important for readers to learn from your website and enjoy the content. On the other hand, it is equally important for readers to develop a level of trust and want to use your product or service. This is why a call of action is necessary. You should always tell your audience what you need them to do next. For example, if you offer a particular service, tell them to call you - and clearly display the phone number. You may also want them to fill out a form or write you an email. Or, if you are offering a specific product, you may want them to purchase it by adding it to their cart. Display all information clearly and guide them towards taking action. Whatever it is that you need from the customer, be clear. A call for action will let readers know how they can take the next step.
The U in F.O.C.U.S. stands for Understanding. In order to make the most of your website, it is important to understand exactly what the reader is looking for. Your content needs to be clear - and you need to be targeting the right readers. If you are a Professional Carpet Cleaning service, for example, then your company offers cleaning services. Rather than write content for your website that talks about renting carpet cleaning equipment, you need to understand what it is that your reader is looking for. If they want a Professional Carpet Cleaning service, then they don't want to clean carpets themselves. They want professionals to do it for them. Understanding this difference can allow you to determine the type of content that you should be writing for your website. Understand your reader and what they want before you start writing content for them!
Lastly, the S in F.O.C.U.S. stands for Searchability. This point ties in directly with knowing your audience and understanding their needs. In order to write content that your readers are actually looking for, you need to think about what they want. Also, you should keep in mind what people want to read. Next, consider about whether or not your article fulfils that needs. Take a moment to really think about it. If your audience is searching for "Chevy Car Parts," then why would you write content for your website about "Chevrolet Auto Parts"? You need to speak to what your audience is searching for. Get into the mindset of your audience before you write anything. Know what they will be searching for and make sure that you can provide the answers for them. Knowing and applying this to all of the content that you write will help interested readers find your website easily.
The F.O.C.U.S. writing benefits readers and businesses alike. This method of writing ensures that website content is focused and relevant. By understanding what readers and potential clients are looking for, you can ensure that you offer exactly what they need. This allows your business to gain visibility and can open the door to an array of new customers.
If you are interested in finding out more about the F.O.C.U.S. writing for websites or other SEO Services, feel free to contact us at: 647-477-2992. At CMS Buffet, we understand how to improve the visibility of your online business.
Recently Launched Sites
Cam-Bag.Com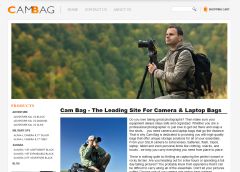 Do you love to take outdoor photographs? Be prepared with one of the Camera and Laptop Bags from Cam Bag. With storage solutions, organization, safety, and security, you will be ready for anything.
Contact Us:
Phone: 647-477-2992
Email: info @ CmsBuffet.Com
Helping You Achieve Web Visibility.