Earn Some Inexpensive Online Exposure
So you've started a business. You've incorporated, you've set up a great website and/or blog, and your social media strategy is in place.
Now, if only you could get the word out. Sometimes you need to do more than rub two tweets together to generate a little buzz. If you've exhausted your personal social networks, the next step is to reach out to the online media world and get some exposure.
If you're just starting out, you may not have the capital for a water cooler, let alone a full-time PR agency. But there are a few ways to get your biz covered in the right online circles if you're willing to put in some time and effort. We spoke to some PR pros to find out how to tap into the online media and get your biz a little exposure without breaking the bank.
Answer Public Media Queries
Bloggers and reporters are always hunting for interesting stories, products and companies to cover and discuss with their audiences. For news outlets and blogs that fosters very niche coverage, it's not always easy to find sources.
That's where media query services like HARO (Help a Reporter Out) come in. It's a place where media pitches are sought out, which isn't always the case elsewhere.
"Reporters' queries are aggregated, categorized and distributed via e-mail to subscribers several times a day," said Leyl Master Black of Spark PR. "When you find a relevant query, send the reporter a brief 'pitch' saying that you saw their query and explaining why you're a good resource for their story. Make sure to respond as soon as you see the query so you don't miss the reporter's deadline!"
Take time away from "cold pitches" via e-mail, and focus it on those reporters who are requesting information for their stories. The value proposition here is a no-brainer.
Make Your Business Blog SEO Friendly
You're probably already aware that business blogging, if done well, can be a huge asset for a small company. It's a better showcase of your expertise than a simple "About Us" page, and has the added benefit of boosting your brand higher in search results that are relevant to your business. After all, people generally don't search for "Joe's Plumbing Supply Shop." They search for "how to fix a leaky faucet."
"Blogs can be a very effective low/no cost vehicle if you make sure the posts are on trend, useful and findable," said Kari Moe Straley, principal at Linked Communications. "Use your blog to comment on bigger 'searchable' trends so that you can get found by reporters and bloggers. This works really well for 'day two' stories.
"For example," Straley added, "today a story about the future of Digg was covered on the front page of The New York Times biz section. Tomorrow, bloggers and reporters will be looking for ways to expand on this story. A blog post with a well thought and insightful opinion, and perhaps some data could be useful for bloggers/reporters looking for a quick source."
Straley notes that a strong and search-optimized title is key, along with spending a little time in the comments sections of fellow bloggers where you can add to the discussion and share links to your posts around relevant key words.
"Comment regularly on relevant articles," Black adds. "This is a great way to join the industry conversation, get your name in front of key reporters and your target audience."
All of these efforts, if done regularly, will start to build a stronger rank for your business blog around relevant search terms, and eventually drive customers and reporters to your site in an organic way.
Low-Cost Press Release Services
The press release is still a go-to method for getting the word out, but using an established service doesn't have to cost an arm and a leg.
"While PRNewswire, Businesswire and other services offer very wide distribution of your press release, these can be quite pricey," said Black. "If you're just looking to get your news 'out there' and picked up by the search engines, it makes more sense to use a lower-cost distribution service"
This approach gets your business and product names out on the Web in places other than your own website or blog. It's not a plan for viral domination, but a baseline for search strategy and an inexpensive way to get your content in front of eyes that are seeking it out.
Need to get your release looking sharp before sending it out into the wild blue ether? Check out PitchEngine and PressLift for services that can help you build great looking, multimedia rich, and socially sharable press releases in a snap.
Contribute to Relevant Publications
If your business blog doesn't yet have the reach to help drive sales, think about contributing to one that does.
Many mid-to-large blogs and media sites accept guest writer contributions that are focused in a particular coverage area. If you're a fan of an industry site, why not contribute content to the discussion in exchange for a promotional byline?
"Once you've found a publication to target, send a short e-mail to the editor outlining what your article will cover and the key takeaways for readers," said Black. "Note that these articles cannot be a sales pitch for your company -- they should provide tips, fresh insights on the industry or macro-level trends."
If a site with reach pops up in a potential customer's search query and your business website is linked in your byline, that's direct and targeted traffic that only cost you a single investment of time.
Your Thoughts
There are so many ways people can find your business on the Web. Unless you're putting yourself out there strategically, you may be squandering an opportunity for free or low-cost PR.
Originally published here.
Recently Launched Sites
Cam-Bag.Com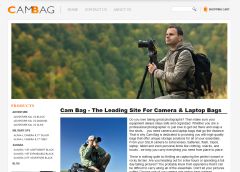 Do you love to take outdoor photographs? Be prepared with one of the Camera and Laptop Bags from Cam Bag. With storage solutions, organization, safety, and security, you will be ready for anything.
Contact Us:
Phone: 647-477-2992
Email: info @ CmsBuffet.Com
Helping You Achieve Web Visibility.