Show Some Love to Your Products and Services by Getting to Know Them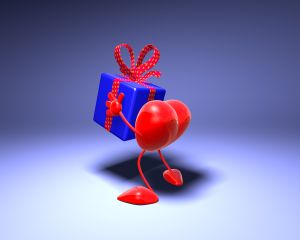 As Toronto SEO consultants, we are paid to know which keywords will get the best results for whichever products and/or services you offer on your Web site. Sometimes, those keywords are not the ones you think of right off the top of your head, and sometimes, they don't match the terminology we utilize in other forms of advertising and marketing. With that in mind, we - the SEO company - and you - the client - must get to know what we are trying to provide to the users who find us in their online travels.
Since Valentine's Day is almost upon us (the Sweetest Day, in case you didn't know), we want to suggest that you get to know what you're selling. You don't give flowers, candy and greeting cards to total strangers; only to the ones you love, or in some cases, like very much. With that in mind, business owners should show some love to their goods by getting to know how people use the Internet to search for them.
First, walk a mile in your SEO consultant's shoes: take a gander at your Google Analytics account and familiarize yourself with the keyword tool. Throw a few into it and see what comes up. Play around with the options and see which related keywords appear. When you see all the variations for what you're looking for, you'll begin to realize that not everyone searches the Internet the same way. Some users are not as savvy as others; their search criteria might contain misspellings or other mistakes that don't quite fit the description of what you offer. For example, lots of people use "pet taxi" services to transport their pets to the groomer, veterinarian, obedience classes, etc. Some people will use different terminology. If a person is not familiar with the term "pet taxi", he or she might search for "pet transportation" or "pet transport services". You never know what people are searching for until you play around with the keyword tools to see what comes up. Guaranteed - the results will probably shock you.
Here are a few more ways to try to decipher how users are searching for what you have to offer:
Look at Pay Per Click ads: Search your product or service and pay attention to the PPC ads that come up. You might find some keyword ideas that you aren't currently using
Check the source pages of top Web sites: Right click on the home or product pages of your competitors to view their source pages. At the top, you'll find the keywords they use. Some of them might be useful on your site.
Ask friends, family and colleagues how they search for things: Quiz those nearest and dearest to you about how they would search for a particular product or service. Chances are, you'll hear something you hadn't thought of! One look at this page, http://www.k9-toronto.com/Pet-Taxi-GTA.php, will convince you.
Keep in mind that SEO isn't always pretty. Occasionally, you have to slip in an awkward keyword or two, or even, gasp! a typo, in order to reach your target audience. The right SEO company combined with quality content writing will effectively disguise these tricks, bringing you quality traffic and increasing your rankings.
A Toronto SEO consultant can tell you more about how you can become more familiar with effective search criteria.
Recently Launched Sites
Cam-Bag.Com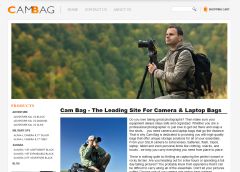 Do you love to take outdoor photographs? Be prepared with one of the Camera and Laptop Bags from Cam Bag. With storage solutions, organization, safety, and security, you will be ready for anything.
Contact Us:
Phone: 647-477-2992
Email: info @ CmsBuffet.Com
Helping You Achieve Web Visibility.