Google Adwords manual payment 2013/10/17
The option to switch to manual payment was "removed" from Google Adwords.
I sent Google a request to switch the account to manual payment.
This is the answer we got
Hello @@@@@@,
Hope you are well. This is @@@@@@ from the AdWords Support Team, and I would like to clarify the situation here.
Google makes periodic changes to the AdWords payment options we accept due to various user and business considerations. At this time, the manual payment option is no longer available to new accounts within your region.
However, we do offer several forms of automatic payments. With automatic payments, you're charged only after you've accrued advertising costs, and by setting daily budgets and end dates for your campaigns, you still have complete control over how much you spend on AdWords. Learn more about automatic payments at: https://support.google.com/adwords/answer/2375432.
Below are the types of payment we currently accept in your country:
Canada: American Express, MasterCard, Visa, and debit cards with a MasterCard or Visa logo
For more information about these forms of payment, please see: https://adwords.google.com/select/AfpoFinder?hl=en.
Sincerely,
@@@@@@ @@@@@@ The AdWords Express Team
Recently Launched Sites
Cam-Bag.Com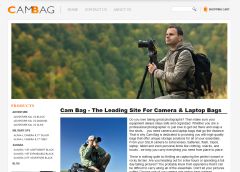 Do you love to take outdoor photographs? Be prepared with one of the Camera and Laptop Bags from Cam Bag. With storage solutions, organization, safety, and security, you will be ready for anything.
Contact Us:
Phone: 647-477-2992
Email: info @ CmsBuffet.Com
Helping You Achieve Web Visibility.