Why Your Business Needs a Mobile Commerce Strategy Now
Remember when people debated whether e-commerce was for real? When the media scoffed at the idea of being able to "just point and click for great deals?"
Today, e-commerce is a massive industry. In the U.S. alone, online spending reached nearly $130 billion in 2009. Like e-commerce before it, mobile commerce is on the cusp of becoming a multi-billion dollar industry, and it's time for merchants to take notice and seize the opportunity.
M-commerce by the Numbers
At PayPal, when we look at our merchants' numbers, we're seeing the impact of mobile commerce jump:
* Our mobile transactions show dramatic growth, increasing nearly six-fold, from $25 million in 2008 to $141 million in 2009.
* We expect to close out 2010 with over $500 million in mobile payment volume, and more than 5 million members regularly using PayPal from mobile devices.
But we're just a slice of the overall m-commerce pie:
* Globally, consumers are expected to spend $119 billion by 2015 through their mobile phones, accounting for about 8% of all e-commerce activity, according to ABI Research.
* The total value of mobile payments around the world will quadruple from $170 billion in 2010 to $630 billion in 2014, according to Juniper Research.
From point of sale offerings, to mobile shopping apps and enhanced mobile web experiences, it seems like companies both big and small are trying to capitalize on what mobile commerce promises consumers.
Though much attention has been paid to how consumers are adopting a mobile shopping experience, little consideration has been paid to how merchants can get in the game. In my years helping merchants of every size enable sales on the "third screen" (with televisions and computers as the first and second screens), a few things have held true in most of the successes I've seen.
Mobile Browsing vs. Mobile Shopping
The numbers speak for themselves, so it's fair to say that consumers are rapidly adopting mobile shopping as a way to buy physical and digital goods. This rapid adoption rate means customers are starting to expect that their favorite retailers will have a mobile presence, making mobile commerce both an opportunity and an imperative for merchants.
Realizing measurable gains from engaging with these tech savvy shoppers means understanding what motivates them to complete a mobile purchase. Consider the difference between "mobile browsing" and "mobile shopping." Applications and websites that allow customers to view the latest fashions are great for brand awareness, and maybe even getting them in the physical store, but without a mobile-specific checkout experience, they don't yield actual sales. I call that mobile browsing because making the purchase is secondary to just looking at the item for a price tag.
Mobile shopping on the other hand, offers consumers the chance to buy something in a checkout experience catered to a mobile device and perhaps most importantly, reduces the amount of clicks it takes to finalize the purchase. This is particularly important in the context of mobile web browsers, where cutting back on content and minimizing the number of clicks is vital to keeping shoppers engaged.
I spend a lot of time on my phone checking out how retailers are taking their online stores mobile. I'll log onto a retailer's mobile website which allows me to look at all the merchandise I want. Content loads quickly and after a pleasant and easy browsing experience, I decide to go ahead and make the purchase.
As is all too common with mobile shopping, I'm taken to a third-party checkout site that is not catered to a mobile browser. Instead of making a couple of clicks, I find myself scrolling, re-entering sensitive information, resizing the screen, ultimately getting frustrated and abandoning the purchase.
As a retailer, it's critical that your mobile customer has the same level of convenience that they would have if they were shopping on their laptop with a checkout experience that's designed for the device.
A number of retailers have successfully brought easy shopping experiences to mobile platforms. Buy.com, for example, has tailored their mobile website for intuitive shopping and quick checkout. While developing a mobile shopping experience is more art than science, layouts with large buttons, minimal text, little scrolling and a fast checkout have proven key to conversion.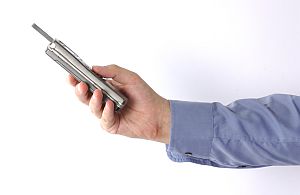 The Mobile Web vs. Native Apps
Much has been made of whether the future lies in mobile applications or the mobile web. Both apps and browsers offer compelling characteristics that, in the context of mobile commerce, can draw in shoppers.
Mobile apps are like your neighborhood produce store. You walk inside the doors looking for specific items. They also typically let users tap into their phone's full potential. For example, a native app might integrate with a phone's camera, voice recorder, contacts or other features. And for shoppers looking for a richer, more advanced interface, applications typically win out over the mobile web because they are designed specifically for that handset's hardware and operating system.
Overall, native apps offer a tailored shopping experience that's well delivered but limited.
The mobile web on the other hand is a like a huge shopping mall with seemingly limitless stores and tons of options all under one giant roof. It's not as constricted or fragmented as shopping on disparate mobile apps but the experience isn't as tailored as the specialty store.
Unlike device-specific native apps though, the mobile web has enormous flexibility and, usually, much larger reach. Customers don't need to download robust programs from app stores to their handset in order to begin shopping. Instead, all they have to do is type in a web address in their mobile browser to start spending their digital dollars. Much of the time mobile sites serve as stripped-down versions of regular websites and serve a utilitarian purpose: selling goods and services.
The mobile web offers what native apps lack and vice versa. And just as in the real world, there's room for both. As long as there is an easy way for consumers to shop from their mobile devices, both apps and browsers serve a purpose for retailers.
Get Ready: The Holidays are Coming
With the biggest shopping season of the year just weeks away, now is the time for retailers to look to the mobile channel to boost sales and meet their customers where they want to be met.
Last year, PayPal saw mobile payments on Black Friday rise about 650% compared to 2008. This year, the holiday season will be a pivotal time for retailers to capitalize on the mobile opportunity as the market really becomes mainstream.
Right now, merchants from small businesses all the way to the largest companies in the world are finalizing their strategies for the holidays. They're thinking about how many MP3 players to keep in stock and how to get feet in the door, and which demographics they should be targeting once the doors fly open on Black Friday. But maybe this year, the smart merchants will think back to the 1990s –- to the birth of e-commerce — and decide to act on the opportunity that mobile commerce opens up, and to change the relationship with their customers once again. E-commerce drove sales, but also more importantly it changed merchants' relationship with their customers. And mobile commerce has the potential to do it all over again.
Originally published here
Recently Launched Sites
Cam-Bag.Com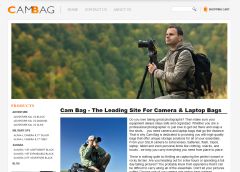 Do you love to take outdoor photographs? Be prepared with one of the Camera and Laptop Bags from Cam Bag. With storage solutions, organization, safety, and security, you will be ready for anything.
Contact Us:
Phone: 647-477-2992
Email: info @ CmsBuffet.Com
Helping You Achieve Web Visibility.