Search Engine Optimization
Search engine optimization (SEO) is the process of improving the quality of web traffic to your web site. The quality traffic can come from search engines, industry related sites etc. Search engine optimization (SEO) is not just about increasing the number of web clients, it is always about getting the right people to your web site.
Our Most Common Objectives For An SEO Campaign:
Being on the top pages of search results for the major search engines.
Being on the top pages of search results on the major search engines.
Researching, identifying and figuring out together, the kinds of searches that your ideal prospects are doing, so that we can pop up for those searches.
Identifying what those prospects do when they get to your site, and making sure they get what they want, and stay on your site long enough to appreciate your offerings.
Finding out where your ideals prospects are on the web, and "stealing their eyeballs" to come to your site through paid ad search.
Creating a persistent presence in the perception of your ideal targets that you are "everywhere" on the web, and that you are a great resource.
Designing and building a customer focused interface to enhance the user experience on the site.
Analyzing and improving your site's web copy so that your site will have useful and 'sticky' content that converts.
What We Do For Our SEO Clients:
First we diagnose the current situation, then we decide together with you what the objectives should be, the timeframe for getting there, and the budget you have to devote to SEO. We can work with any budget, and the more you are willing to learn and do some of the work yourself, the lower the cost to you.
In every case, SEO is a collaboration between both sides, because truly you are the expert of the content and the product or service you provide. You must do your part of helping us present and deliver useful information to the prospect, via the web.
Some of the common tasks we do are:
Improve the web site code.
Improve the web site content.
Submit articles to sites on the web, which link back to you.
List your site on other web sites, with links back to you.
Observe user behavior on your site and make changes accordingly.
"Spoon feed" your site to search engines.
Instigate and adjust paid ad campaigns.
Optimize your site for mobile devices (cell, pdi)
Monitor results and keep adjusting to respond to search engine changes and the actions of your search competitors.
Manage and analyze search word variants, search word density, and other technical attributes important to search engines.
We avoid or remove any techniques that are unethical, or against the search engine firm rules, to avoid being blacklisted by the search engines.
SEO is part science and part art. We customize what we do for every client. A simple way to get started is with our diagnostic service for just $195.
Recently Launched Sites
Cam-Bag.Com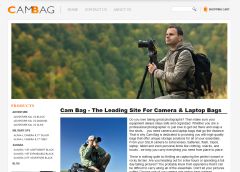 Do you love to take outdoor photographs? Be prepared with one of the Camera and Laptop Bags from Cam Bag. With storage solutions, organization, safety, and security, you will be ready for anything.
Contact Us:
Phone: 647-477-2992
Email: info @ CmsBuffet.Com
Helping You Achieve Web Visibility.